New Space. New Stories
About
PLAY@Kallang, a concept born from our love of gaming and having to grow up.
Following the success of Damage Per Second at 29 Carpenter St, we brought the very concept that connected all gamers, to Kallang Wave Mall, mall at Singapore Sports Hub. PLAY@Kallang aims to reignite the fun and joy we had as kids – being an adult doesn't have to be mundane.
Taking on the successful elements of our previous operations, PLAY@Kallang incorporates different aspects of fun, from retro arcade machines to LAN gaming. PLAY@Kallang have it all.
Get set for a night at PLAY@Kallang filled with nonstop fun! With our arcade and claw machines, PLAY@Kallang provides a unique experience that will keep your guests entertained for hours.
Our selection of classic and modern games includes King Of Fighters and crowd favourite – Bishi Bashi. Our claw machines offer prizes such as official merchandises and our mascot, Gummy!
Connect with old friends, colleagues, and partners, or make new ones through play.
Our Facilities
Facilities
We are All-In-One Exertainment Hub one of a kind in Singapore
F&B Zone
Food, Bar Bites and Drinks
Bar Zone
Beers, Liqueur, Cocktails
Amusement Zone
Pool Table, Arcade, Beer Pong, Claw Machines
Karaoke Zone
Fun, Family and Friends
LAN Gaming Zone
High spec PCs & super fast internet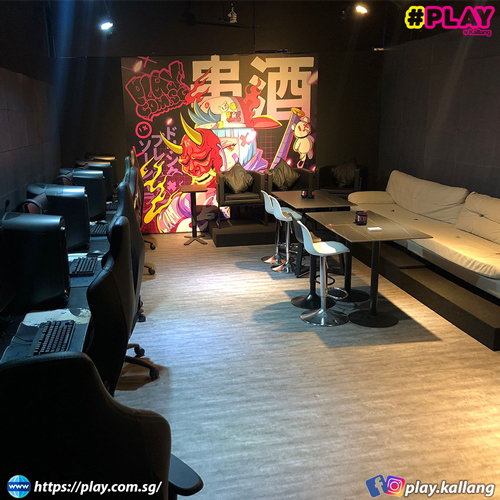 Private Party Room
Best for Success Party and Birthday Party
Event Hall
Best for Corporate event and Seminars
We Host All Type Of Events
Services
Additional Services
Additional
Enjoy a hassle-free night where all you have to worry about is enjoying yourself in company of friends. Our professional team will arrange the most convenient time for your group and personally escort you in.
PLAY@Kallang offers private room coupled with VIP bottle service treatment. Please inquire here for availability and our VIP Reservations Manager will follow up in a timely manner.
Feel Free

and Enjoy 
in PLAY@Kallang with Joy

We are very excited to have launched our brand new cocktail bar! Located in main area. Come in, have a drink, some complimentary nibbles and relax.